This Blawg Review comes to you from the Canadian Trademark Blog, resident in Vancouver, British Columbia – a blawg run by several of the talented trademark law practitioners at Clark Wilson LLP.
Our city, Vancouver, is one that knows a lot about hosting – whether it be blog carnivals, tourists, or currently, the Winter Olympics. And, given all the excitement on the streets around us right now, we thought it appropriate that we take "Vancouver: Olympic Host City" as a theme.
As Vancouver stepped onto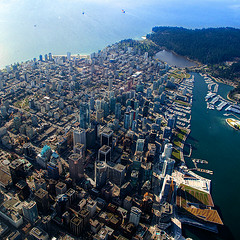 the world stage this past weekend to embrace the pandemonium that comes with hosting the 2010 Olympic and Paralympic Winter Games, we cannot be help but reflect on the hard work our city has put in through several years of preparations to welcome the world in a fashion best described as "Citius, Altius, Fortius". As athletic enthusiasts, corporate representatives, government officials and athletes themselves continue to pour in from around the globe, Vancouver will be in the spotlight over these next two weeks – much like the athletes themselves, delivering the performance of a lifetime. (And of course, we want to keep in mind that some of those athletes may be lawyers too, as noted by Business Insider Law Review!)
Before booking your flight to Vancouver to catch a glimpse of the Games – or to travel to the city at any point in the future – there are a few things you should know about your journey here.  In addition to the ever changing regulations about air travel,  you may also want to consider what the e-Forensic blog has to say about traveling with sensitive data. Travel hassles aside, at least you can take some solace in the idea that once you arrive and get past security, you'll likely enjoy the airport – which, coincidentally, is great for sleeping in if you've forgotten to book a room.
With your travel plans in place, there are also a few things you should keep in mind about the 2010 Winter Olympics host city.
Vancouver 101 and Some "Must Sees"
Before you plan your trip to Vancouver, you might want to take note of the city's pineapple express – a rather unusual weather pattern for a Canadian city. In particular, you would be well advised to bring your rain gear because Vancouver receives more rain than "Rain City" Seattle – though the folks at
Seattle's Rain City Guide may try to tell you something different. Vancouverites are quick to comment on the amount of rain in the city and it is not uncommon from November until March for there to be 20 consecutive days with some amount of rain in Vancouver. As a result, Vancouverites are well acquainted with the various shades of grey – and popular or not, after that many days in a row, so much grey can make things  a little, well, gloomy.
But once you're here, there are a number of great places to visit in the city – including old tourist favorites Stanley Park, Granville Island and Grouse Mountain.
Stanley Park is an evergreen forest of 1,000 acres within walking distance of Vancouver's downtown core. Amongst other notable features, the Park is known for its Hollow Tree – really, a stump – which was recently saved from demolition.
Although Stanley Park is virtually surrounded by the ocean, if you want to experience an island in the middle of a city, Granville Island is the place to go.  The Island is known for its colourful artistic community and public market, in addition to its waterfront restaurants, theatres and unique shops. But don't just take our word for it – the Project for Public Spaces selected Granville Island as the Best Neighborhood in North America.
If you're interested in the local mountains in the city's backdrop, Grouse Mountain is a lovely spot for both tourists and locals alike to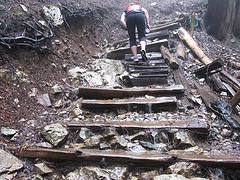 enjoy some fresh air and look out over the Vancouver skyline. (In fact NBC news has chosen Grouse Mountain as the location for its Morning program during the 2010 Olympics.)
In the summer, some outdoor enthusiasts even choose to hike the 2.9 kilometre Grouse Grind trail up the face of the mountain. The total elevation of 2,800 feet is commonly referred to by locals as "Mother Nature's Stairmaster".
If you've had enough hiking and want to get back down to the beaches, another famous spot to visit is Wreck Beach – Canada's first and largest, legal, clothing-optional beach. Located in what is known as West Point Grey (virtually on the University of British Columbia campus), this 7.8 kilometer beach below a 200-foot high cliff system attracts a vast range of personalities. European visitors missing their topless beaches are given an opportunity to work on ridding themselves of tan lines, while hipsters and more liberal individuals can hang out and relax in peace. This can all be done while looking out onto the recently renamed Salish Sea.
While at places like Wreck Beach and other areas of the city, it is likely you'll  get a whiff of some BC bud, a generic term for several varieties of cannabis grown locally in British Columbia.  In fact, the smell of bud is often more common on Vancouver's streets than plain old cigarette smoke.  Perhaps it is not surprising, then, that despite the Criminal Code prohibitions against it, BC bud is easily available.
But maybe public nudity and the demon weed are too much for you – perhaps you're a more private individual.  If privacy is a concern you may want to take time to consider the federal Privacy Commissioner's report on the privacy implications of new technologies, reported at the Canadian Privacy Law Blog. And in the off-chance you get busted for being nude or high in the wrong place, then alternative sentencing may be of interest – in which case, you may want to consider some of the issues raised in a recent post by Simple Justice.
In contrast, if you want to kick back and relax with some legal intoxicants, you can always enjoy a beer from a local microbrewery or a BC wine. If you happen to be in Vancouver in the warmer months and you have time to drive a few hours out of the city, you may even want to go straight to the source and enjoy BC's wine country.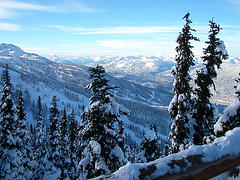 On the topic of out-of-city activities, we cannot write about Vancouver without mentioning another part of beautiful BC scenery – and host to the Olympic Games – Whistler. Outside of the Olympic period, this resort town nestled in the Coast Mountains (no, not in the Rockies) can be reached via a 1.5 hour drive.  During the Olympics, access is restricted to local residents and Olympic vehicles: no private vehicles are permitted, in order to keep the highways clear for athletes and tourists alike.
Other tourist destinations are a ferry ride away. If you're lucky, en route to Vancouver Island's Victoria or Tofino, you may spot a pod of killer whales. But even if you don't get an opportunity to free Willy, the scenery and wildlife on Vancouver Island is worth the ride.
Once you've visited some of the major BC tourist destinations, it'll be time to really enjoy some of the Vancouver scene. This might just mean sitting in a cafe and trying to take in Vancouver's coffee culture, which is certainly on a level similar to our Seattle neighbours. Perhaps while sipping on a cup of joe, you will spot a Hollywood star doing the same – Vancouver is "Hollywood North", after all. All sorts of films get made here – though it looks like the Youtube serial of the California same-sex marriage trial is being made in LA, as Copyright or Wrong notes.  And Hollywood types can be notoriously touchy.  One should take some care not to misappropriate a star's personality, whether alive or dead: The Trademark Blog commented on this issue recently, referencing Marilyn Monroe's ghost.
Vancouverites can "thank" their US neighbours for the Starbucks on every other corner and the random Hollywood star sightings; however, they also have to thank their US neighbours for much beloved big box shopping opportunities. Despite all the great places to visit in Vancouver and British Columbia, locals often can't wait to leave the city to score some deals in Bellingham or Seattle – and with the strengthened Canadian dollar, the enthusiasm has only increased. But there may be jurisdictional issues whether you are crossing the border or posting comments on a blog, something Eric Goldman's Technology and Marketing Law Blog comments on this week.  In the same light, the BC Injury Law and ICBC Claims Blog comments on out of province accidents and the jurisdiction of British Columbia courts.
If Vancouverites aren't sipping coffee, climbing mountains or cross-border shopping, it might be because it's sushi or dim sum time. Delicious sushi and dim sum restaurants are almost as common as Starbucks franchises in Vancouver. If you know where to go, you might just be able to find a lunch time all-you-can-eat sushi restaurant for $12-$14. A veritable bargain – which may not be the case with your legal software, an issue commented on by Lawyerist.com this week.
After digesting a fresh dim sum or sushi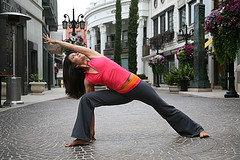 meal, you might want to burn off those calories without having to climb the face of a mountain. Instead, as home to Chip Wilson's Lululemon dynasty, you can easily grab some comfy athletic wear and join locals for a yoga class. Of course, you should be aware that Lululemon recently ran an interesting marketing campaign that attracted a great deal of legal comment, including a post over at IPOsgoode.ca.
Getting Ready for the Games
Getting ready for the 2010 Games has not been all smooth sailing, although as Slaw.ca points out, it is worth keeping in mind that many issues, particularly legal issues, may be "Olympics-occasioned" and not "Olympics-related".
When the opportunity to host the games arose in 2002, the city was torn. But after a "non-binding" vote in February of 2003, British Columbians made it clear that they believed the 2010 Games were in the province's best interest, and on July 2, 2003, Vancouver was awarded the honour.
Since Vancouver is accustomed to hosting hundreds of thousands of visitors, especially in the summer months, hosting the 2010 games would be business as usual and cause no problems … right? Not surprisingly, as with past hosting cities, that was not the case. Vancouver had a number of transportation problems, and a lacked some of the venues required for the Games.  As a result, infrastructure and its cost were on the mind of all levels of government – and their taxpayers.
The most expensive infrastructure project was the Canada Line. Promoted by the provincial government as an integral part of preparations for the 2010 Games, construction of the Canada Line (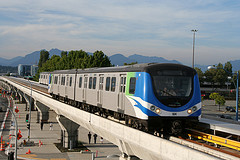 formerly known as the RAV Line) began in 2005 and was completed in August of 2009. The rapid transit line includes 19.2 kilometers of track, with the main line running from Vancouver to Richmond. While completed on time, the $2 billion line – expected to take 200,000 one-way automobile trips off the road system per day and provide a convenient means for individuals travelling to and from the Vancouver Airport – did not come without issues. Several hundred Vancouver merchants are suing for damages arising from the construction method used for the line. Nonetheless the prospect of fewer cars on the road is making cyclists happy, although bike theft remains a problem in Vancouver – not unlike L.A., a concern that Michael Helfend addresses this week.
Another major issue involved the expansion of the Sea-to-Sky Highway that connects Vancouver and Whistler, which was once called the Achilles heel of Vancouver's bid for the 2010 Games. Although the project wasn't without controversy and other issues, the $600 million upgrades to the highway have increased the capacity and safety of the what was often a treacherous drive. Perhaps the controversy might have been avoided if there had been a little more transparency on the part of officials, an issue that David Harlow's Health Care Law Blog raises this week.
Another major infrastructure controversy came to the public's attention in late 2008 regarding the Olympic Athletes' village in Vancouver. Concerns arose after the City of Vancouver authorized lending up to $100 million to bail out the cash-strapped developer. As the loan was kept secret for a period of time, city councillors were heavily scrutinized. After the Games the village will become condos, and will face issues similar to those regularly addressed by the Ontario Condo Law Blog.
Although controversy surrounding other new or improved 2010 Games infrastructure focused on expenditures, a few new and/or improved venues are worth mentioning.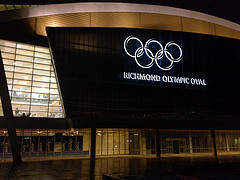 The Richmond Oval has already received international praise and has been recognized for it's award winning design. Stephen Colbert has even been specifically invited to work at the new venue. The new and improved UBC Thunderbird Arena has also received attention and millions of dollars have also been spent on upgrading Cypress mountain facilities and on extra transportation for the games. We can only hope that this all contributes to an economic recovery, a significant issue that Equal Justice Works has been exploring lately.
Marketing, sponsorship and trademarks can be a source of controversy and the Trademark Blog of the Trademark Lawyer's Mind points out some of the recent concerns regarding Chinese trademarks. Sports are certainly not immune from trademark issues. The Australian Trade Marks Law Blog commented last summer on an Australian case regarding the trademark rights of the Japan Karate Association, while German Trademark Law in a Nutshell referenced Puma's fight with its competitor, K-Swiss, regarding Puma's U.S. trademark application for its "form strip", a bended leather strip. And while we're on the topic of athletic shoes, who can forget the record-breaking award Adidas obtained against discount shoe retailer Payless in the US? A similar suit in Canada remains pending.
Hosting the Olympics also raises issues and, similar to other host nations, the Canadian government came forward with new legislation to prevent unauthorized persons from marketing their wares and services in association with the 2010 Games. This legislation was put in place to prevent what is known as "ambush marketing", which has had a long history at international sporting events. Of course, Canada is not the only country with legislation protecting the Olympics brand, an issue recently addressed at Seattle Trademark Blog. We will see what transpires when the Games move on to Russia in 2014, with a logo that Name Wire recently commented on.
Advertising and sponsorship are a key component to the financial success of the Games – at least in their current form.  Olympic sponsors proudly trumpet their connection to the Games –
in part, thanks to VANOC who (in accordance with IOC rules) purchased every major public advertising space in the lower mainland of Vancouver. The IOC has even gone so far as to limit the exposure of a well-known charitable organization because one of the sponsors of that organization is not an official 2010 Games sponsor. In addition, size doesn't matter to the IOC and VANOC, as both large and small businesses can receive a phone call. But if you are contemplating who might be right and who might be wrong in this situation, you may want to consider Ron Coleman's comments on subversion and "property outlaws" on his Likelihood of Confusion blog.
Of course, advertising and marketing are issues for lawyers as well, and each of The Client Revolution, Law21.ca and MyShingle.com have interesting perspectives to share this week. The Trial Warrior Blog weighs on the disconnect between legal technology and the practice of law.  Speaking of technology, we're really impressed with official iPhone app released for the Games – it is a definite must for every Games visitor.  On that point, Austin Criminal Defence Lawyer noted earlier this week that iPhone apps aren't just for kids and technophiles anymore: both police and judges are now using them too.
Conclusion
As the home to Greenpeace, it is fitting that Vancouver
will be attempting to be the ultimate host while also keeping the Games green – and the team at Megawatt recently examined organizers' efforts in this respect.
No matter how "green" the Games actually turn out to be – whether from the environmental or economic contexts – it is clear that our city, boasting of natural beauty and an extraordinarily high quality of life, will have to be on its game these next two weeks: the pressure is on.
We hope all visitors to the city enjoy their stay – and come back often.  And if you're thinking of making Vancouver your home too, you may want to take a look at Chaudhary Law Office's comments on the crackdown on Canadian citizenship applicants. And you'll want to keep in mind that Vancouver is not a cheap place to live – in fact, it features the least affordable housing in the world! Nevertheless, we'd be happy to have some new neighbours.
Speaking of neighbours, for next week's Blawg Review we welcome another Vancouver-based blog, Law Firm Web Strategy.
Blawg Review has information about next week's host, and
instructions on how to get your blawg posts reviewed in upcoming issues.